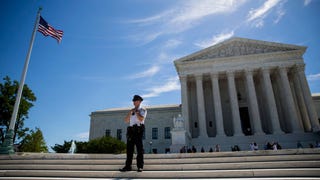 On Wednesday, the United States Supreme Court began hearings on a case that has the potential to be the most important privacy decision in recent memory. At its heart, it's about the government's right to use cellphone data to track a person's past locations without a warrant. More broadly, it's about updating the way…
When the USA Freedom Act passed earlier this summer, the NSA was pushed to stop collecting phone records in bulk. The question of what would happen to the massive amount of data it'd already collected on people remained. That question was answered today: Those old troves of metadata are mostly going in the garbage.
The New York Times reports that President Obama is planning to reveal a legislative proposal that will overhaul the NSA's practices—and put an end to its bulk collection of phone records.
When the NSA's phone tracking was revealed, the agency was quick to point out that it's not listening to phone conversations. But the agency is tracking who you call, when, and for how long — your metadata. Claims that metadata is anonymous have never been fully comforting, especially now: Stanford researchers say…
According to a report by the New York Times, the NSA tested a system to collect location data from American cellphones in bulk back in 2010 and 2011, before ultimately tabling any plans to roll it out. For now, anyway.
Thanks to more classified documents leaked by NSA whistleblower Edward Snowden, The Guardian is now reporting that a British spy agency has tapped into trans-Atlantic fiber optic cables, allowing them access to everything from email and Facebook messages to internet search histories and phone calls. Which they gather…
In response to the recent news reports about the National Security Agency's surveillance program, President Barack Obama said today, "When it comes to telephone calls, nobody is listening to your telephone calls." Instead, the government was just "sifting through this so-called metadata." The Director of National…
We collect an astonishing amount of digital information. But as the Economist recently pointed out in a special reports, we've long since surpassed our ability to store and process it all. Big data is here, and it's causing big problems.
A bit of bad news about Vista if you're a photographer. Apparently if you tag a photo's metadata in Vista, it destroys other important metadata used by image editing apps such as Photoshop. Microsoft's gotten reports of RAW files generated by Nikon cameras being unreadable after being tagged with Vista or Microsoft's…

Gracenote, which provides all of that fancy information about CDs when you pop them into your computer and play (or rip) them in iTunes and other players, has a lyric service in the pipeline set to launch in "early 2007" after inking deals with several record labels to license song lyrics. Interestingly, the press…