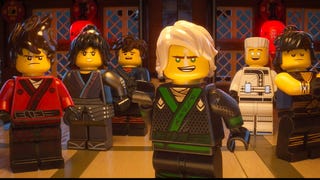 Fans love to talk about how many Marvel or DC films come out each year, but very few acknowledge there are two Lego movies coming out this year. The first, The Lego Batman Movie, is out this week. The second, The Lego Ninjago Movie, is out September 22, and some revealing new images were just released.
io9 prides itself on bringing you the movies you care about—science fiction, fantasy, superheroes, basically anything with an otherworldly or supernatural element. But then there's a movie like Collateral Beauty, Warner Bros.' big Christmas family film, and we don't actually know if we should be telling you about it.
It's kind of mindblowing to think there are multiple Lego movies on the horizon. There's the 2019 sequel to The Lego Movie, a Batman-centric spinoff in 2017, and The Lego Ninjago Movie, based on the absurdly popular ninja-themed Lego brand. It hits next fall and the voice cast has just been revealed.
This fall, America is going to send a manned mission to Mars, and it's not going to go well. But before all that, any astronauts slated to take this trip would obviously undergo lots of tests—one of which might be an extended period in isolation. And that's the subject of the latest viral video for The Martian.