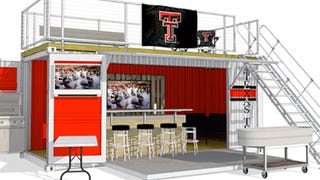 Football season may be months away, but that doesn't mean we can't daydream about tailgating. Forget about the rickety old camp grill and cooler in the back of your van: the future of tailgating is boxGATE, a brilliantly overkill pop-up party that unfolds from a shipping container. It's the Transformers of tailgating!
Itty-bitty apartments are nothing new, but many people are moving towards microhouses, free-standing or mobile structures that have all the amenities of a larger home, just with a lot less room. Would you be willing to trade your current digs for a small house that maximizes space, or do these just look like cramped…
Are you one of those people who constantly threatens to detach from society and go live out in the woods? But you're probably baffled as to how you'd go about making that a reality, right? Well for $10,000 and a little bit of elbow grease, you could finally make good on those empty threats with a super-tiny cabin.