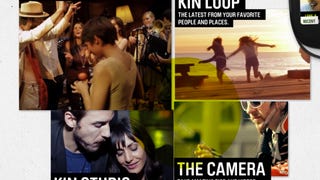 Do you wear silly hats? Glasses that cover more than 35% percent of your face? Have a beard, even though you can't fully grow one? Wear jeans that fit extraordinarily well? Love coke? Then you'll adore Microsoft's Kin, in theory!
Dumbphones are dead, right? So why—at the time of the great Windows Phone 7 resurrection—is Microsoft pushing a totally separate phone platform that doesn't even run apps? The answer is borderline insane, but just might work.
After the Windows Phone 7 launch passed without so much as a mention of Project Pink, Microsoft's other new phone project started to fade into memory. Today, we can confirm: Pink's coming, and Verizon's the carrier. UPDATE: First live shots.
With Windows Phone 7 out, everyone has forgotten about the other Microsoft handsets, the allegedly Sidekick-derived Turtle and Pure cellphones. Someone got a peek into the firmware, which confirms some of the rumors about these "not-so-dumb cellphones".
Another alleged insider has starting spilling—flinging?—beans about Microsoft's Pink project, enthusiastically piling the hate atop earlier claims that the project was under dire threat of cancellation, for sucking. This time, the rumors come via AppleInsider, and they get personal:
Microsoft's been consistently cagey about whether or not they'll make their own phone hardware "like Zune and Xbox," but today at a Windows Mobile roundtable, Robbie "Not Glacial" Bach put it straight: It's not happening. Officially.
Project Pink is Microsoft's secret new phone, their first major phone play since the iPhone. Here are the first pictures of Pink phones, Turtle and Pure.
Team Xbox claims to have sources inside Microsoft who are working on a new device that "sits somewhere in-between the Xbox and Zune platforms."