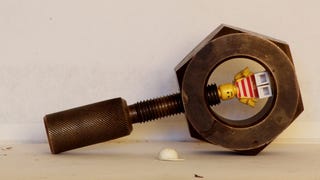 Migraines are one of four types of primary headaches, and they come in two forms, those with an aura and those without. The other three primary headaches are tension headaches, cluster headaches and, the catch-all type known as, other primary headaches. These include things like exercise induced or cough induced…
Migraines suck, but do they suck enough that you'd strap on an electric headband that zaps your brain's nerves to block the pain? The FDA doesn't think that's such a crazy notion—the agency just approved exactly such a device for treating and preventing migraine headaches.
If you've ever had a migraine, you've probably experienced photophobia, the painful sensitivity to light that sends you scurrying, eyes closed, to the darkest dungeon you can find. In that moment, you're probably wishing for a way to (temporarily) unplug your eyeballs and put an end to the agony. Researchers at The…
Wow. That's a big Migraine Zapper AKA TMS. This is actually an early model, used only in studies, but I suspect that everything—migraines, the common cold, VD—would go away if you zapped yourself with something like that over and over again.
Holy wow. You may not know this, but your faithful narrator, me, has migraines that would put a cow under. Every few weeks I get a real scorcher and have to lie down and wait for the pain fairy to cough me back out of her horrible, pressure fitted bowels. That said, there is some sort of device, called the TMS, which…