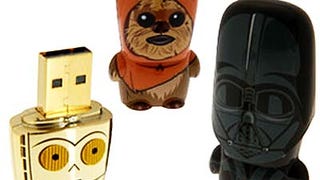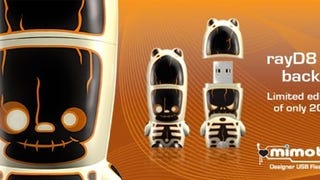 Fans of the undeniably geek-chic Mimobot flash drives will be pleased to hear there's a new edition out for this year's fast-approaching All Hallow's Even... the RayD8gig. It's an 8-gigabyte inverse color version of RayD8, and it glows in the dark, ohoho yes. But if you're tempted you need to move fast: there's a…
The latest batch of mimobot designer flash drives for Spring continue their artist series, this time fronting Italian artist Simone Legno's Tokidoki brand. There's just three in the set, but they're all pretty awesome: Pirate Nero, obviously a frickin' pirate; Pastaio, who looks like demon kitty chef; and Meletta,…
The Star Wars Series 2 mimobots—Luke, Leia, Han and Boba Fett—that were due last month are finally shipping tomorrow, three months after going up for pre-order. They've got a brand new feature that I'm not sure if I love or hate: When you plug in or eject the drive, it plays sounds from Star Wars, in case your…
Apparently designed for tree-hugging hippies, Castro residents and ex-Hello Kitty addicts, the latest Mimobots are the same-old USB memory sticks dressed in new plastics. And yes, like the previous generations, these FriendsWithYou models are equally as cute, sugar-level-boostery and almost-irresistible. Almost. I…
Mimobots, those adorable USB flash drives created to look like various characters, are about to be joined by a new set of Star Wars peeps. Sure, Darth Vader, Chewy, R2-D2 and a Stormtrooper have been out for a while, but now you can preorder Princess Leia, Luke Skywalker, Han Solo and Boba Fett. What, no Admiral…
Mimoco's got these Limited Edition Master Chief USB Drives in 1, 2 and 4GB sizes. They're preloaded with artwork from the upcoming Halo novel and an episode of "This Spartan Life", they're pricey at $109 for the larger model, but given the Halo feeding frenzy, they would still sell out of the limited run if they…
The NY Comic Con was disappointingly less gadget-y (or worthwhile) than I had hoped, which is to say that it was gadget-less until I spotted the Mimoco banner way against the back wall. And what can I say, I'm a whore for art toys—Kid Robot has gotten far too much money from me over the last couple of years.
Mimoco is launching part I of its Artists Series '07 collection of mass culture art objects-cum-USB flash drive mimobots. The new series, like previous ones, is comprised of limited edition collectibles with designs from Hanazuki, Sket One, and Mori Chack (of Gloomy Bear fame), respectively.

Like the Lucas-approved Darth Vader USB Drives from Mimoco, this Chewbacca USB thumbdrive is limited to a 2500 run, and is available in 1GB, 2GB, and 4GB sizes. No bowcaster?! Awwww...
An Imperial spy informs us that Mimoco's going to drop a Darth Vadar USB flash drive tomorrow. A limited run of 3500, too, so you'd better queue up now if you want one. They're officially sanctioned by his royal Lucas-ness, and will go for $80 bucks for a 1GB version, all the way to $170 bucks for a 4GB version.…