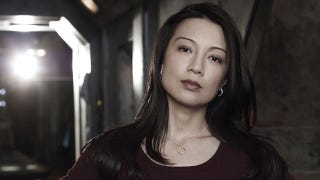 Ming-Na Wen, formerly from ER and Stargate Universe, will play a "soulful" and "damaged" pilot named Melinda May in Joss Whedon's new S.H.I.E.L.D. TV show. Melinda May is described as "an ace pilot, a weapons expert and a soldier who can - and has - gone beyond the call of duty." And apparently she's the character who…
Ming-Na's Stargate Universe character isn't just stepping through a portal into another galaxy, she's coming out of the closet. She tells us about playing Stargate's first openly gay character, and how this show is about to get a lot sexier.
We were lucky enough to interview two new Stargate Universe crew members, played by Ming-Na and David Blue. We took the opportunity to grill Blue on his Gater know-how and find out all we could about Eli.