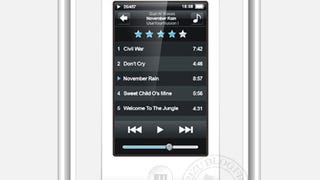 Meizu's at the copying game again, showing off some renders of their upcoming Meizu M7, along with specs and pricing information. We suppose that leaving all the UI work to Apple and co-opting it later allows them to keep prices at a low $100, $110, and $150 for the 2GB, 4GB, and 8GB models respectively. As for the…
The Meizu Miniplayer review we looked at yesterday is getting an "SP" edition. We think the SP stands for "So Poorpeoplecanbuyit", because all the features are the same, yet it's nearly $30 cheaper than the price of the standard edition.
The Meizu Miniplayer is like the Obi-Won Kenobi of MP3 players—the only hope to go up against the Empire-like iPod. Now that the Nano has gone a Darth Vader-ish black, the white of the Meizu Miniplayer reminds us that good functionality and great design will win over great design alone.
The Miniplayer, Meizu's answer to the iPod Nano, is now available in an off-the-rack basic black. It still has the same Meizu stylings, same 1-4GB flash memory, and the same sexy 18FPS DivX playback. The screen's the same 320x240 and it has the same 20 hours of battery life for audio and 6 for video. Yeah, you get…
The Meizu Miniplayer we posted a review of yesterday is actually coming to the US. Dreams do come true! Maybe this iPod competitor will have more luck than Creative in knocking the king off the throne—no, we're not talking about Elvis on the pooper.