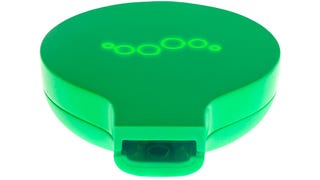 The term breathalyzer is most commonly associated with a device used by law enforcement to measure someone's blood alcohol content after they've been pulled over. But with a few tweaks made to the chemicals used in a breathalyzer's sensor, the device can also be used for detecting other problems. Instead of measuring…
When did you last scan a QR code? Was it during last week's Republican debate? Or maybe that ad for a free Coke at Wendy's. It probably wasn't on a coin. But the Dutch are changing that with QR-coded currency.
This is what happens when you let a radioactive snail in at night. Havoc! Luckily, Evolution Robotics' Mint cleaning robot did a darn good job cleaning up after it, as you can see from a long-exposure photo of its mopping.
The Korean Mint Pass is doing some pretty neat things in the MP3 player world, with this Robot Music Tank player/speaker concept tracking humans with its pyroelectric sensor, locking onto their thermal temperature and rolling after them, gleefully playing music.
The Mint Studio is an update of the Mint 220 wireless speakers we reviewed last year. Although the two units look almost exactly the same, the Studio fixes the complaints we had from its predecessor, AND it's cheaper.
The Gadget: The Mint 220 Digital Music Station, which acts both as an iPod dock, but also as a wireless speaker system that syncs via USB dongle to your Mac or PC. Comes with wireless remote and uses the 2.4GHz spectrum to beam music up to 45 feet/15 meters.
Better than chewing on your Wii controller, or have the dog chew on your face (which ours has just done to Jesús, so guess who's off to see her husband in ER in a minute?) this official Wii chewing gum is a snip at four bucks. Normally, this is where I type something stupid, but it just doesn't seem appropriate. [GK…
It's not an entry proper in our Battlemodo iPod Dock Bracket, but it's a worthy contender nonetheless. It's an iPod Dock with two bookshelf-quality speakers, which can take in audio input from the iPod, a USB connection or line in (a Zune). It even has a separate wireless iPod dock that can stream music from up to 100…
The LG Chocolate. Other than the Motorola RAZR, it's probably the most hyped cellphone out there right now. And now you can get it in Christmas colors: cherry (red) and mint (green). That means that it's now available in black, white, cherry and mint. Four colors, people. One more than three, but one less than five.…