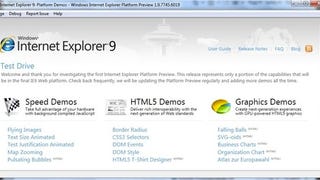 Ninth time's the charm, sometimes! At least that's Microsoft's hope with IE9, which they've just announced at Mix, brings new HTML5 support (including HTML5 video!), hardware-accelerated 2D graphics, and a totally new JavaScript engine—and no XP support.
We've become acquainted with Windows Phone 7 handsets from Asus and LG, but during this morning's demo, we saw a new one from Samsung. So, what do we know about this—or any—of the handsets we've seen so far?
What many feared (or briefly thought about without much emotion either way) has turned out to be true: Microsoft PR has confirmed that Windows Marketplace for Mobile will be the only source for Windows Phone 7 apps, meaning that you can't sideload apps, and that Microsoft will be the sole gatekeeper for all apps on…
Click to viewSo this is how apps are going to look on Windows Phone 7: visually captivating, great animations, 3D transformations. It's a very distinctive look and feel from iPhone apps, and may be just what Microsoft needs to establish themselves.
Windows Phone 7 Series: It's a thing! And it looks pretty great, so far. Last month's announcement, though, left a lot of questions. Questions which are answered here, in Gizmodo's live updated coverage of Microsoft's MIX 2010 keynote.
It's not clear yet when Microsoft's newly announced Windows Phone Marketplace is going to launch, but when it does they'll have a bevy of partners already on board, ranging from the AP to Foursquare to Pandora. And they look good!