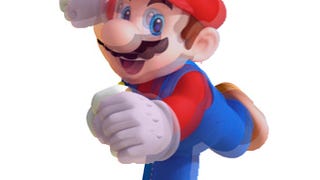 Nintendo went all in on motion control, and now the rest of the industry is following their lead. But according to Mario mastermind Shigeru Miyamoto, the company doesn't think it's quite time for them to jump into the third dimension.
The newest iteration of the Nintendo DS, the Dsi, has come out of hiding! The company's new handheld gets a 17% bigger screen (measuring in at 3.25 inches), a .3 megapixel camera, an SD memory card slot, and "audio enhancements" like the ability to listen to mp3s, adjust pitch and playback.The DSi will also feature…
The storage situation on the Wii is sorta abysmal, especially if you're an avid Virtual Console or WiiWare fan and have lots of games. Don't worry, Nintendo knows it. According to a translated interview with Latin American pub Club Nintendo, Reggie and Miyamoto say that you can expect an announcement about storage…
It was always unlikely to us that the Wii Fit would be the thing to sculpt your gelatinous torso into something suitable for American Gladiators, but Nintendo's Miyamoto finally admitted it himself.
The Kotaku boys got through a series of Miyamoto interviews, where they ask Shiggy about future revisions of the Wii, shortages, the next-gen of the DS, and (heaven forbid) retirement plans. [Kotaku]
So, apparently these kids were watching telly at home when some japanese Mulder-and-Scully-wannabes arrive with some white magic wand. Then the whole family gathers around the TV to laugh at grandpa while changing his hairstyle. It's like, oh grandpa, we love you, but you would be so much cooler with an afro wig, man.…
Cuddlebear Jason Chen is at the Game Developers Conference right now, and he's gearing up to cover Miyamoto-san's keynote address and the rest of the Nintendo keynote. He'll be liveblogging the event, which is set to kick off at 1:30 EST/10:30 PST, so get yourself settled to see what kind of magical crap Nintendo…