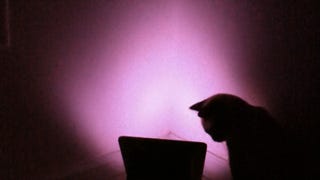 Considering the iPad costs about $400 more than a Philips LivingColors, I think Dofl Yun might just need his head checked out after saying he compromised and bought an iPad to use as a mood light instead of a LivingColors.
These aren't LEGO in the way that actual LEGO are LEGO, but they are translucent bricks that you can stack on top of each other to build structures. In this case, the structure is a tower with a hole in the middle for a light to go, which then passes through the various colors you've set up to induce one of several…
I nearly labelled this four-port USB hub with digital alarm and seven-colour moodlight "just another boring Brando USB gadget." But on second thought, I decided I actually like it: if you're going to have a USB hub on your desk, why not combine it with some multicolored LED goodness? Brighten up your dreary cubicle…
Need to add a little excitement in the bedroom and Cosmo is out of ideas? We recommend the Mod-Light Mirror Tile. During the day, the fixture is a normal, well-adjusted tiled mirror. But at night, customizable remote control LEDs can offer new "light scenarios" to couples with interior design troubles.