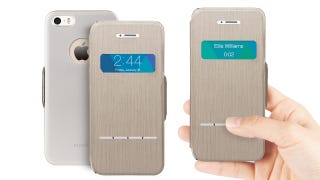 A flip-style case will protect all the parts of your expensive smartphone—from the housing to the display—but at the cost of making you a little slower on the draw when it comes to answering a call. So to solve this 'problem' Moshi has created the SenseCover case which features a touch-sensitive strip on the outside…
I tell my alarm clock to shut up constantly, but—unlike the Moshi alarm clock radio—it never listens and I have to fondle it in order to get a few moments of blissful silence. Well, no more of that.
The Moshi IVR clock is one of those rare, heartwarming products that serves two marginalized demographics: the blind and the chronically rude. For blind folks the benefit is obvious, as all of the clock's major functions are controlled with simple verbal commands. This includes alarm deactivation, but not necessarily…
The Gadget: The Moshi Zefyr, which is a collapsible USB-powered notebook cooler for the MacBook and MacBook Air (MacBook Pro version coming soon). The USB slot is pass-through, which lets you plug in another USB device so as to break even, and the whole thing can collapse into itself for easy transport.
We've been testing the CODEX laptop cases for the MacBook and MacBook Pro for about a week now and it's actually quite good if you need something to carry your machine—and only your machine—from place to place.
The Moshi Celesta keyboard has two things going for it. One, it looks very nice with its blue LEDs and "diamond-cut" aluminum frame. Two, it has laptop-styled keys to make typing quieter and faster. Yes, we know some of you like to type at 90db with your click-clacking IBM keyboards, but not everyone does.