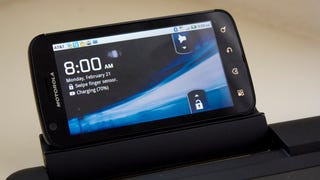 It's been well documented that AT&T's 4G phones aren't just slow—their upload speeds are often slower than its 3G network. So what happened to that extra G? Turns out it's not the network itself that's borked; it's the phones. AT&T has intentionally crippled the Motorola Atrix and HTC Inspire—the carrier's only…
The Motorola Atrix phone-and-netbook Android device is on February 22 instead of March 6. If you preordered the device or had it shipped to a store, you'll get it delivered on February 21. For earlier impressions, check here. Our review is coming soon!
WSJ reports that AT&T's flagship Android phone, the Motorola Atrix, will be available March 6 for $199 with a two year contract. But they say you'll be able to get the crazy-ass laptop dock for just $300 more. Kinda. Updated.
We loved Motorola's Atrix phone at CES, which docks into a PC for properly sci-fi computing. But when oh when will we get our hands on it? According to some leaked AT&T docs, it'll be launching at the carrier on March the 1st. That's not too long to wait, is it? There's also the added advantage of it being after the…
One day, you'll have a little tablet or phone, and carry it everywhere. It'll be your only computer. When you need to use a "real" PC, you'll dock it. Motorola's Atrix is a little glimpse at that day.