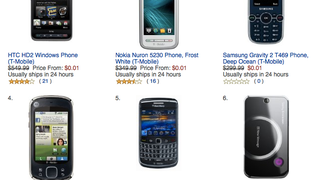 Joining the Shack and T-Mobile themselves, Amazon's offering all T-Mobile phones—including the HTC HD2, Nokia Nuron, Motorola CLIQ, and the Blackberry Bold 9700 among them—for ONE PENNY until June 21, with a new 2 year contract. [Amazon]
If you have a CLIQ, it's probably a good idea to hold off on any updates, as a multitude of issues have cropped up. And most importantly, a T-Mobile forum mod recommends you "not to Master Reset your phone if your OTA update did not download or if you are experiencing issues at this time." [T-Mobile forums via Android…
So like the Droid before it, the Cliq has been rooted. It's not ready for wholesale fun-making mods yet, however—it's not capable of handling new ROMs quite yet. But it will be, my friends. Mods like Cyanogen, Sense, and more should be coming soon, in case you're sick of Blur's Twitter interface being all up in YOUR…
Remember when Motorola told everyone that they wanted to spin off that lame-o mobile division of theirs? Still hasn't happened! Motorola isn't depending on the Cliq to revive their phone business; they're depending on it to ditch their phone business.
Everyone's been waiting for the Cliq, Motorola's desperate-but-anticipated dive into Androidery, and we were ready to be excited about it. Problem is, you wouldn't have known from the launch, which was somewhat mishandled.
We saw the Cliq this morning but we just got a chance to really play around with Motorola's Android-based, social-networking-focused smartphone, and we have to say, we're pretty impressed. Read on for our impressions.