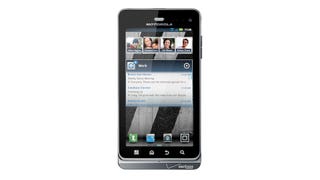 We've pretty much learned everything about the Motorola Droid 3 through previous leaks, but now it's official. Android Gingerbread, 1 GHz dual-core processor, 512MB RAM, international GSM roaming, 8-megapixel camera, 4-inch qHD display, 1080p video playback and an HDMI mirror mode.
If these leaked docs are real, the Droid 3 won't cause jaws to drop in the specs department, packing a beefed up version of the 1GHz, dual-core OMAP III chipset and qHD display. But what it will have is the ability to use the phone overseas, which will certainly make it a globetrotter's best friend. [AndroidCentral]
After numerous leaks and hints, the Motorola Droid 3 is official—well, in China anyway, where it's being called the Milestone 3 (the European and Asian name for the Droid series.) As expected, the Gingerbread phone is faster, thinner and shoots 1080p videos.
Expected around June on Verizon Wireless, the Motorola Droid 3 will be a smart-snappin' 8MP handset with 960 x 540 qHD screen resolution, dual-core processor, and HDMI-out port. The jury is still out on whether it'll be LTE-compatible, however.