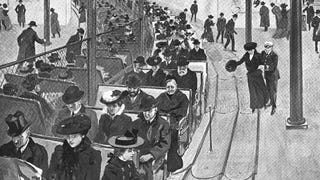 At the turn of the 20th century, the moving sidewalk was the future of urban transportation. As much as airplanes soaring in the sky and automobiles rumbling on the streets, the moving sidewalk represented a bold new vision for tomorrow. This idea of rolling pavement appealed to people in major cities who didn't yet…
What would you do if you had a time machine? Go watch the ancient Egyptian pyramids being built? Hang out with Jesus and turn some water into wine? Kill Hitler, maybe? These are all, no doubt, noble endeavors. But I've often said—and I stand by this—that if I had a time machine, I'd go visit the 1893 World's Fair in…
The July 4, 1976 Grand Prairie Daily News (Grand Prairie, TX) published letters written by 4th graders, addressed to people of the year 2000. Just as the newspaper did, I've left the spelling and grammatical errors. Because if we've learned anything at the Paleo-Future blog, it's that kids are stupid.

These images of a moving sidewalk of the future ran in an 1890 issue of Scientific American. A moving sidewalk very similar to this was actually built for the 1900 Paris Exposition. You can even watch film of the sidewalk in action, shot by Thomas Edison. The images below can also be found in the excellent book …

Edison's film from the 1900 Paris Exposition is amazing, but it leaves you wondering how that moving sidewalk ....well, moves. Wonder no more. This French website answers a few questions via these great illustrations.

As a follow-up to last week's post on the moving sidewalk of 1900, today we have an illustration published in 1956. The image below appears in the book 1999: Our Hopeful Future by Victor Cohn. It was produced by Goodyear and shows the (semi-realized) hopes for this paleo-futuristic technology.