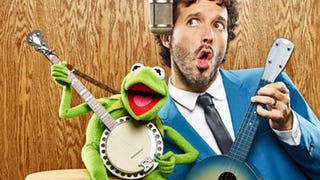 Bret McKenzie won an Oscar for his songwriting in the first Muppet movie, and now he's back for the second. We spoke to the Flight of the Conchords co-founder, and he spilled all his secrets on finding the melody for a new generation of Muppet films. Plus his animated NASA series, and his next fantasy musical.
I imagine all I need to do is type "new Muppets Most Wanted trailer" and that's more than enough reason to watch this video. But just in case: more plot details, more celebrity cameos, and more of Kermit's evil doppleganger Constantine, whose attempts to match Kermit's voice have never, ever stopped being funny to me.
The Muppets aren't all "aw shucks" jokes and flying chickens. Back in the day, the Muppets were full of biting, spot-on satire. And this latest trailer from Muppets Most Wanted is no exception, showing everyone who markets film how ridiculous they all look when they use Twitter quotes in their trailers.
In advance of The Muppets' Most Wanted, Muppets Studio has released the bite-sized webisode "Food Fight," in which the Swedish Chef pits his culinary skills against Gordon Ramsay in a reality show-inspired food truck competition. And naturally, our favorite Muppet critics are serving up their judgment with a side of…