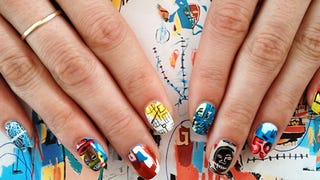 These nails are sporting an unmistakable dose of Basquiat with a smattering of Warhol. It's not a rendering—it's real, hand-painted nail art, taken from Nail Art History, a brand new Tumblr that showcases some very impressive manicures based rather accurately on real works of modern art.
You gaze upon the photo you've just uploaded to Instagram: a masterful sunset capture, indeed, the Valencia filter giving it that whisper of intrigue. You think to yourself, Damn, this looks good on my phone but it would look SO GOOD on my pinky fingernail. It could happen, with NailSnaps.
Man, I really love nail art. You might not share the same kind of enthusiasm for crazy custom manicures, but we can all agree that the Laser Girls' 3D-printed nails are decidedly cooler than your average press-on acrylics.
The Giz, as you know, is a big fat fan of modding (and, it goes without saying, big fat modders) but this moddable MicroSD card reader from ADTEC in Japan is definitely one for the girly girls. Plain, cheap and plastic in the before pic, hit the jump to see the tasteful "after" picture.