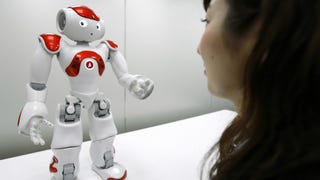 Humans only live aboard the International Space Station for a few months, maybe a year. Robots, on the other hand, don't need food or water or comfort, and can work on the station for as long as need be. Useful! And they'll be even more useful with a new method of memory storage that can store years of information.…
Sure, you've seen robots dance before, but you've never seen them dancing like this—shimmying, sliding, and sashaying, just like humans, in perfect synchronization. It's just like Bring It On, only slightly less robotic.
The Cignias NAO Symphony looks like any other iPod dock. But it's not like any other iPod dock. Because it streams music wirelessly and plays nice with BlackBerrys, too.
Still, I have to admit that Nao delivers a powerful performance—especially when it comes to his R2-D2 impression. Of course, that's kind of like Gary Busey playing a lunatic, but still...kudos. Outside of his skills as a thespian, Nao is also quite capable of learning and performing useful tasks for his owners. Nao…