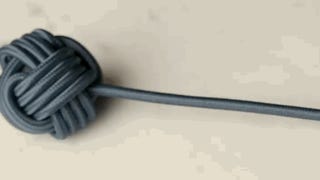 Normally, if you tried to sell me a 10-foot micro-USB cable for thirty-nine shiny American dollars, I'd laugh in your face before storming off to Amazon and paying $7 for the privilege (with GOLD CONNECTORS no less). But honestly, Native Union's fancy-ass cable might just be worth it.
A backup battery for your phone is only useful if you're willing to carry it with you. So Native Union has come up with the JUMP which integrates a little extra power into your smartphone's charging cable, ensuring it's light enough to carry and always has a little bit of extra power to keep your device running.
You probably ditched your home phone years ago, but odds are there's still a landline phone sitting on your desk at work. As satisfying as it is to slam down a handset to drive home a point, it's time to upgrade. And Native Union will help you transition to using your smartphone all the time with its lovely POP Desk…
Be honest: That talk about cellphone radiation scares you a teeny-weeny-itsy-bitsy-bit, doesn't it? Me too. Fortunately there are cellphone docks which'll spare you from a whoppin' 96% of the evil, cancer-causing energy. Or so the designers of this one claim.