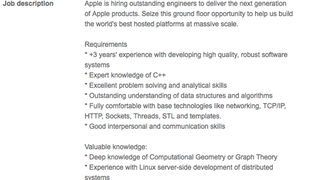 One of the major things Android can hold over the iPhone's head? Access to awesome, free navigation. Although according to a recent job listing, Apple may be ready to give iPhone buyers free navigation of their own. Let's speculate!
We didn't care much when the official Garmin-ASUS collaboration ended this week (anyone who read our review will know why), but ASUS still has exclusive rights to Garmin's navigation tech for Android phones apparently. iPhone and BlackBerry users can expect to see a navigation app from Garmin soon, though how soon is…
Now that iOS4 is out of the door, most apps need a quick update to support multitasking. TomTom's first with a multitasking navigation app, but CoPilot and Navigon have both shown off what to expect from theirs too.
Navigon—long one of our preferred navigation apps—is showing off how their latest update will take advantage of iPhone 4 multitasking. Sure, it'll be fun to have Pandora on while I browse, but this I can actually use.
Navigon is one of our favorite navigation apps. Which is why we're pretty excited at the prospect of being able to buy it piecemeal: starting today, instead of buying maps for all of North America for $80, you can buy a MyRegion map of the East, Central, or Western US for $25.