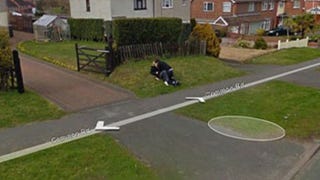 Nokia and its mapping division Navteq are developing a rival to Street View, one that offers full three-dimensional computer models of villages, towns and cities, and could one day allow those urban centers to form the backdrop to realistic games.
Today, as soon as Google showed off its beta GPS navigator, the stocks of Garmin, TomTom and other companies in that industry fell into the toilet. It's hard to compete with free Google apps, but that's not why they're screwed...
Four days a year and 21% less CO2 emissions. That's what a GPS with real-time traffic information will give to you, and the entire planet. At least, that's what maps maker Navteq says. As you can expect, there's a catch.
Garmin'sdropping four new models to the higher-end 7x5 lineup with the nüvi 755T, 765T, 775T and the 785T. All models will include lifetime traffic alerts via NAVTEQ Traffic and Bluetooth connectivity, but the updated 7x5 series will include the most exciting new features: a 4.3" touchscreen, a 3-D transparent view of…
Garmin has decided not to pursue purchasing Tele Atlas, and instead signed a six-year deal with Navteq, agreeing to help Navteq improve its data. For those of you playing along at home: TomTom will likely get Tele Atlas, and Nokia's takeover of Navteq won't affect Garmin's long-term relationship. [Garmin]
Garmin says it will outbid TomTom for ownership of map provider Tele Atlas. Ironically, Garmin has always used data from Navteq, which is now being purchased by Nokia. Soooo Days of Our Lives. [Garmin]

When Panasonic introduced its Strada in-dash GPS system, I was like, "Where's the portable, dudes?" Well, it's here. The $500 Strada CN-GP50U will have the usual premium features such as Navteq maps of US, Canada, PR and Mexico, an SD slot and Bluetooth for hands-free calling, but it will also have Voice Command for…
Nokia is buying Navteq, the world's biggest digital map maker, for $8.1 billion. Nokia wants to be a leader in location-based services, and buying Navteq gives it the best access to the best database. GPS-maker TomTom is in the process of buying Tele Atlas, Navteq's only major worldwide competitor. [NYT]