The Roomba 980's powerful suction and advanced pathfinding outweighed its sky-high price tag to take the title of our readers' favorite robotic vacuum.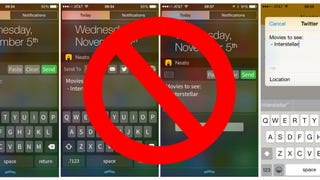 When they were announced, the widgets in iOS 8 sounded like they had huge potential. But then iOS 8 came out and, well, all of the widgets sort of sucked. Until this one.
Where as Roomba—arguably the most popular robot vacuum on the market—uses a tried and true pre-programmed algorithm to randomly explore and clean the floors in your home. Neato's robotic vacuums—including its new BotVac—use a built-in laser scanner to map a room and plan out the most efficient cleaning route.
If The Jetsons' Rosie had the personality of an automotive assembly line robot, she'd have been turned into sprockets long ago. IEEE discusses the latest efforts to endow domestic robots with a bit of attitude.
This new Neato vacuum cleaner has one trick up its nozzle that your average Roomba doesn't—lasers. I'm sold!
See what a full sized blue whale would look like in person. Spreading the save the whales word, the WDCS wants you to look into the big black fist-sized eye, and stop bloody whaling. [WDCS]