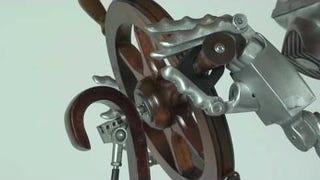 Regular sculpture: kinda boring. Moving sculpture: considerably less so! This mesmerizing 20-minute video showcases sculptor Nemo Gould's portfolio, with all pieces created from found and salvaged materials. That huge squid one is perfect for my front yard. I'm sure my neighbors will love it. [Laughing Squid]
It's hard to socialize when you're a Boogeyman because all you want to do is hide under beds and growl. That's why artist Nemo Gould has created this Portable Gloom Environment.
I love Daleks and Cybermen because they're illogically terrifying: The clumsier the tech, the scarier they get. Nemo Gould's found-material sculptures unlock the same secret brain code, being cartoony and scary at the same time.
Click to view This astonishing Viking mega-robot, known as Little Big Man, is controlled by another robot nestled in a neon cave within the big Viking's radio cabinet chest. It's one of the latest sculptures by Nemo Gould, whose awesome recycled robot stylings we've raved about before. Gould built Little Big Man for…
Fact: every robot is controlled by a tiny robot pulling all sorts of levers in its chest, just as every human is powered by a gnome yanking on your lungs, heart and various coils of intestine. The Little Big Man kinetic sculpture by Nemo Gould outlines this principle, and was commissioned by the San Jose Museum of Art…
Artist Nemo Gould, whose proud and strangely anatomically-correct robot you see here, loves old-fashioned science fiction, hybrid animals, and junkyards. He just finished an artist-in-residency program at the San Francisco Dump, and has turned out an amazing array of sculptures using recycled debris. Brighten your day…