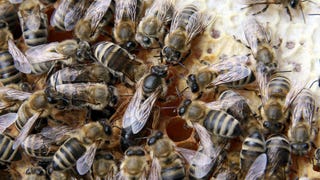 New research from the University of Nebraska-Lincoln shows that a widely-used class of nicotine-based insecticides is causing queen bees to lay substantially fewer eggs than normal. This particular class of insecticides—the most popular in the world—has also been linked to colony collapse disorder, a mysterious…
Evidence has been piling up that neonicotinoids, a class of ubiquitous pesticides, play a role the recent decline of bees. A new study adds worrying and unexpected evidence: Bees actually prefer food contaminated with neonicotinoids—probably because it's getting them high.
A study released today offers evidence that neonicotinoids, the same pesticides associated with honeybee deaths, are now flowing into our water supplies. Neonicotinoids are a kind of insecticide that some scientists say could be causing colony collapse disorder, which endangers bees and agricultural plants alike.