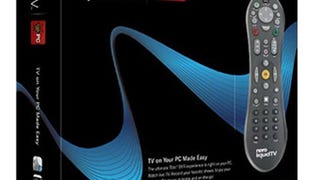 Sure, Windows 7 Media Center is included with the OS, but if you can't give up your TiVo interface, here's a cheap way to roll your own, HTPC style—$60 for Nero Liquid TV software and a tuner card.
Wondering what Nero did in between killing Captain Kirk's dad and getting his ass kicked by the crew of the Enterprise in this summer's Star Trek? A new comic promises to explain all.
The final issue of Star Trek: Countdown was released this week, completing the prologue to this summer's Star Trek movie. If you skipped the series, then you missed a lot... including some old friends. Spoilers!
Ars got their hands on Nero's freshly-announced LiquidTV/TiVo PC team-up, and thought the TiVo software and Hauppauge TV Tuner hardware was a good experience for $200 ($100 for software only). They looked not only at how the UI functioned in the PC environment, but also at export options, content exchange, and…
Possible-new-interface-haver TiVo and Nero, the old CD burning guys, have announced a new piece of software that will give your PC all of the capabilities of a TiVo box, allowing it to tune in to and record television through TiVo's familiar interface. The announcement was a long time coming, as TiVo and Nero…
Eric Bana set his phaser to overload and dropped it in the middle of a mass of fans before walking away with a smirk on his face. His much-ballyhooed role as the Romulan villain in the new J.J. Abrams Star Trek film is only a cameo. But he adds that "it's a good cameo!" However, he also mentions that he hasn't started…
Why let Microsoft's Media Center PCs have all the fun? Today, TiVo announced a partnership with Nero to "develop a software solution that will bring TiVo features to the personal computer." The company claims that this is in response to the "growing PC TV tuner market," and in our opinion its a wise move. TiVo lost a…