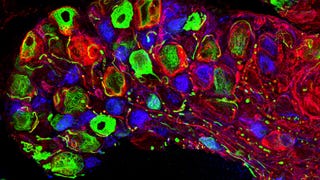 Get y0ur T-1000 jokes ready, because we're one step closer to liquid metal-powered people. As a team of Chinese biomedical engineers recently used an alloy to close the gap between severed sciatic nerves in frogs. In effect, it made electronic circuits out of nerves—and it worked.
One of the great tragedies that goes along with spinal injury is paralysis. This happens because our damaged nerve cells can't fully regenerate. But what if we could unlock the key to neural rejuvenation? Now, a team of neuroscientists have discovered a gene in fruit flies - somewhat similar to a human gene - that…
A 71-year-old man who was paralyzed in a 2008 car accident has regained motor function in his hands thanks to Washington University doctors who rewired his nerves to bypass the damaged ones. Though the patient could move his arms, he had lost the ability to pinch and grab with his fingers. Until now, that is.
A neural engineer from Case Western Reserve University is reviving paralyzed limbs with an electricity hack. It's a brilliant workaround for spinal cord injuries, and it may someday let paraplegics activate their legs just by pushing a button.
Click to viewWe showed you some of the video from Dean Kamen's appearance at the All Things D: D6 conference back in May and it included some demos of the amazing Luke Arm prosthetic limb. Now All Things D has made the three-part entire interview available, and it includes detailed explanations from Kamen about why he…