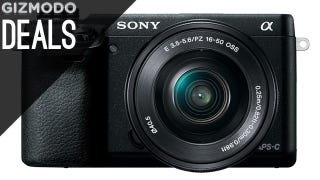 Sony's NEX-6 is a fantastic camera that Gizmodo recommended at $850, calling it the "sweet spot" in the market space, and went on to say it was "hard to imagine a better design." Available today for $525, its lowest price ever, it's an absolute steal. [Amazon]
Pretty much all mirrorless cameras—Fujifilm X, Samsung NX, to name a couple—with APS-C size sensors can take a damn fine picture these days. The a6000 does its best to stand out with a pinch of style and updated tech, but it's still largely the same as the camera it's replacing, 2012's NEX-6.
Imaging Resource has posted parts of an interview they conducted with Sony Digital Imaging's senior technology manager Mark Weir, explaining the reasoning behind abandoning the NEX brand, which has comprised their familiar line of mirrorless cameras since 2010.
Sony's A3000 DLSR is cheap. Super cheap. It costs $400 paired with a 18-55mm f/3.5-5.6 kit lens. These days, that's more or less the price of an advanced point-and-shoot camera from Canon, and it's considerably cheaper than Sony's badass RX100 II point-and-shoot. So what gives? And what's up with DSLRs?
The latest of the seemingly endless iterations of Sony NEX interchangeable lens cameras is the NEX-3N. At $500 including kit-lens, Sony is shooting for the lower end with this one—primarily people who are just stepping up from a smartphone or compact point-and-shoot. We got a chance to toy around with the new camera…
Sony seems content with rolling out endless variations on its popular line of mirrorless cameras. The final one for 2012, the NEX-6, fills out the pricier end between the NEX-5R and the NEX-7, but can it find a foothold to thrive among so many siblings?
Sony's been grinding on compact, interchangeable-lens cameras: It's got three different lines (NEX 3, 5, 7) going at different price points, and they're all spectacular. The Sony NEX 6 is the latest for everyone who loves using the high-end NEX-7 but hates the price.
A purported leak reported by Sony Alpha Rumors has outed the latest incarnation of its Sony's mid-range mirroless, interchangeable-lens camera beast, the NEX-5N. Well, it's two cameras really; the Sony NEX-5R and Sony NEX-6 will supposedly be announced in September.
The Sony NEX-7 is a mirrorless interchangeable lens camera that nearly fits in the palm of your hand, yet has the same 24.3-megapixel Exmor APS HD sensor as the Alpha DSLR line and a beautifully designed magnesium alloy body.
Sony plans to release the specifications of its E-mount lens system to other manufacturers this April, allowing anyone to develop lenses compatible with its NEX cameras and camcorders. There will be no charge for doing so, and Sony has already gathered "endorsements" for the idea from Carl Zeiss, Cosina, Sigma and…