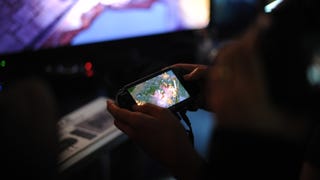 You already knew most of the details about the next PSP. But now we know its name: The PlayStation Vita. 'Cause it means life, or something. Update: Hands on. (Sony was being stingy about photos/video though, sorry!)
My eardrums are bleeding, so you won't get to experience that part of the event, but if you want to follow along with Sony's E3 keynote—where we're expecting lots of ass-kissing and bowing and the PS Vita—GameTrailers has a live stream right here.
Guns. Swords. Balls. The video games of E3 2011 will have all these and much more when the industry's annual conclave kicks off this week in Los Angeles.… [Kotaku]
The light-spraying, shadow-bending dreamscapes carved out of our noir nightmares made possible by the latest version of the Unreal Engine are the reason why we're always looking for what's next in gaming.
It's not just the PSP which will benefit from an update bringing along the Music Unlimited streaming service—the NGP and Xperia Play will also see the Qriocity-powered service at a later date. The cloud-based streaming service is already available on the PS3 and Bravia TVs, and has six million songs to date. [Eurogamer
Just in case you were still wondering (hoping?) that Sony's latest handheld would be as powerful as their full gaming console, the PS3, Sony slapped sense into everyone by saying it would "probably set fire to your pants," if true. That hasn't stopped Epic from saying it's still four times as powerful as the first…
Let's face it—we know the NGP is going to cost more than Nintendo's 3DS, but just how much are we talking about? Sony's President Shu Yoshida told Game Informer that "it's not going to be $599." Just for interest's sakes, when the first PSP was released in 2005, it cost $249.
The Sony PSP2 has arrived under the codename NGP. It has a 5-inch OLED touchscreen, dual analog sticks, front/rear cameras,a touch-sensitive panel on the back of the device used for control along with a quad-core CPU and GPU. (Updated)