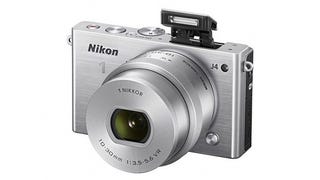 Just a month after announcing the pricey V3 interchangeable-lens camera, Nikon global just pushed out info about a more compact, and we're assuming more affordable, version of the mirrorless camera. The Nikon 1 J4 is ultra-fast and loaded with beginner-friendly features.
Nikon's new AW1 is the first waterproof interchangeable-lens camera we're aware of, and we have to admit that even if it seems a tad niche, it's refreshing to see Nikon dive into something new. This camera will definitely be a lot of fun, but more importantly, it's a smart design direction for the company's line of…
The New Nikon 1 J3 and Nikon 1 S1 are steps one and three of the newly established price ladder for Nikon's series of mirrorless interchangeable-lens cameras. At $500 with a slim 11-27.5mm kit zoom lens, the 10.1 megapixel Nikon 1 S1 is a particularly well-priced option that might entice the photographers who should…
Tiny cameras with big sensors and swappable lenses are like, a big deal. How big? Nikon just built their first brand new camera system for the first time in practically 50 years. It's the Nikon 1. And yeah, it's kind of awesome.