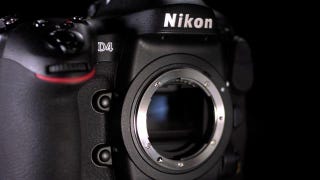 The new Nikon D4 DLSR is a beast. Its fires off 11 shots per second with gusto. The inner workings of such a task are hard to appreciate with the naked eye. But if you have a Phantom camera, your eye is considerably less naked. In this video, enthusiasts Jason Kolsch and Jayson Jordon used a Phantom Gold to capture…
We've heard ridiculous things about the Nikon D4's low-light performance: In short, word was that you can basically take great photos in a cave. We didn't go spelunking, but we did put this $6000 monster through its low light paces, and the results were even better than we'd hoped.
If you're going to lay down $6000 for the super-fast, low-light stalking Nikon D4, you might as well pony up another $900 for the WT-5 dongle that cuts the cord. Or why not string 10 D4s together? Wireless bullet time at a cost of $69,000.
If you're used to shooting with an everyday DSLR, the Nikon D4 is like holding fully-automatic machine gun for the first time.
Nikon's $6000 D4 might just be the new most deadly lightstalker around with a new 16.2-megapixel full-format CMOS sensor that has (relatively) gigantic 7.3-micron pixels (bigger than Canon's new 1 DX). And it shoots at up to ISO 204,800. Did I mention it's better than the D3s in almost every way?
When Canon announced the outlandish 1DX, you could be sure Nikon wouldn't be too far behind. Now, specs of the new D4 are leaking, and it looks like it could be a close fight between the two.
Just as our MacBook Pro Thunderbolt high is starting to fade, we get a fresh syringe of anticipation straight to the neck: Nikon's impending D4 might offer support for Intel's superduperfast connection. And this would be a huge lifesaver.