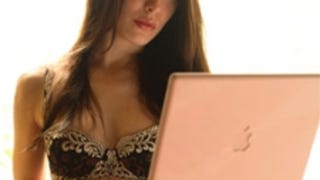 Typically, the most shoddy work journalists put out is the ubiquitous trendspotting piece. And today's NY Times article, "To Appeal to Women, Too, Gadgets Go Beyond 'Cute' and 'Pink,' " excels at digging itself so far into stereotypical, sexist bunk I don't even know where to begin to pull it apart.


If you don't know about the E-410, it's a 10-megapixel digital SLR packed into a remarkably slim body, selling for an impressively low price ($700 for body only, $800 for one lens, $900 including two lenses). The value proposition increases when you consider it includes Live View—the ability to get a video preview…
We have a Nikon D40X ($730, body only) in our hands, and testing it for the past few days has been a joy. The camera is light but not too light, and its controls are perfectly placed. We're even okay with its menu system, which other reviewers have called "meandering." It also gives you the overall impression that…
Here's that Nikon D40x DSLR that's been bumped up to 10.2 megapixels from its D40 brandmate, with 3fps shooting instead of the 2.5fps of the plain ol' D40, as well as longer battery life and slightly wider ISO range.
There's an updated version of the Nikon D40 DSLR that'll soon hit the streets, now called the D40x and raising its megapixel count to 10.2 from the 6 megapixels it had before. Nikon also says it's also improved in two other areas: its three-frames-per-second continuous shooting, and a wider range of ISO speeds, now…