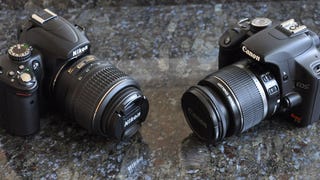 Nikon's D5000 and Canon's Rebel T1i are the two hottest sub-$1000 cameras ever created. But which one is hotter? The specs and shots below say plenty—but tomorrow we give you the final verdict.
We told you about the Nikon D5000 (Nikon's latest sub-$1000, HD-shooting dSLR with a swiveling screen) when it was announced two weeks ago. Now, thanks to Amazon, we hear that the first shipments are going out to customers on April 27th. Anyone waiting for their order to arrive? [Amazon via Engadget]
Nikon Rumors got their hands on a few shots (both of the marketing and blurry cam varieties) that look to be of the rumored Nikon D5000.
Maybe the photo show next week won't be lacking DSLRs—Nikon Rumors claims a "90% chance" that Nikon will be revealing the D5000, a 12.3MP entry-level DSLR with Live View, video and a swivel display.