Starting tomorrow, the Nook Simple Touch has a new, lower price: $79. [Engadget]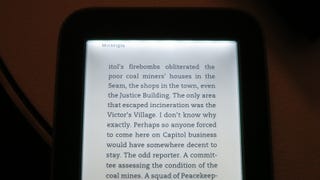 The Nook Simple Touch was already the best ereader out there. And it just took the last step for an ereader to become the only book-reading gadget you need. Now—thanks to a new frontlit display—you can read in the dark.
For ereaders, it's a two-horse game. Kindle and Nook. Nook and Kindle. We've spent a lot of time with the two flagship models (and the non-touch Kindle 4), and we gotta say: We called it wrong. The Nook Simple Touch is the best ebook reader. Here's why:
The Nook Tablet isn't the only Barnes and Noble news today. The Nook Simple Touch eReader will receive and update in the very near future which will speed up page turns by 25 percent and extend the battery life.