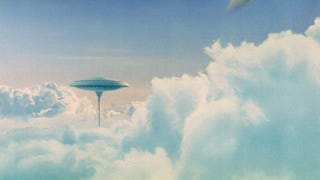 There was a great disturbance in the Force this week as George Lucas announced he's locating his new art museum in Chicago instead of San Francisco. But Lucas's art isn't all Millennium Falcon models: There are some seriously fascinating pieces in his collection, all themed around the concept of storytelling.
They would be pretty damn charming. Artist Bryan Lee puts a Saturday Evening Post spin on pop culture heroes.
NASA's always had a knack for making the wonders of science look like incredible art; gazing at their various high-def visions of the universe is awe-inspiring to the highest degree. In addition to its incredible command of the cosmos, the agency has also spent the past fifty years commissioning terrestrial creative…
Mark Dos Santos imagines a world in which illustrator Norman Rockwell packed up his easel and moved to Gotham City, where he reflected a very different side of American life. Some of his Gotham Evening Post illustrations capture moments with the Bat-family and their rogues that are as sweet as any trip to the malt…
Some Shooting Challenges are crazy-popular, others, usually falling over the holidays, are eerily quiet. So this week, for our Rockwell remake results, we're going to highlight our favorite of a small bunch, by Andrew Drozd.
Last Thanksgiving was one of my favorite Shooting Challenges ever. You shared your family's personal recipes. This year, I want you to share the whole table. This year, I want you to go full Norman Rockwell on us all.