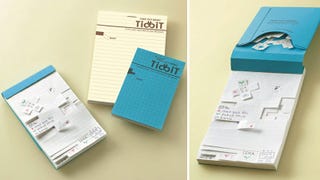 The makers of these Tidbit memo pads found a way to improve on something that, quite frankly, was already pretty perfect to begin with. But by turning the grid lines on a piece of graph paper into perforations, they've managed to create a product that's even more useful.
50 sheets, each with icons reminding you of calls that need returning, food that needs buying and dates that require setting up. It's a shame there isn't a "find" feature in this $10 notepad yet. Maybe in MePad 2.0? [Lobotome]
Call me old-fashioned, but I do think these floppy disk sticky notes are a lot more fun than the iPhone and iPad variants. Sure, you can't design apps in the blank space...but you can come up with fun fake file-names!
Or gets a blue screen of death. Or has a red trackpoint that gets dirty and gets worn down. Yep, the precursor to the original IBM ThinkPad was just a pad, with the word "Think" imprinted on its leather binding.