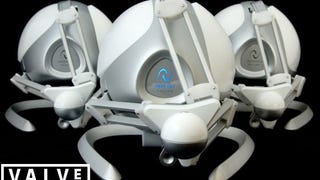 The long-in-development force-feedback PC game device Novint Falcon is a good idea in theory, but without actual support from games there's not a whole lot you can do with it. Good news though, since Valve just announced support with the controller for PC versions of The Orange Box, Counter-Strike: Source, the …
I messed around with Novint's Falcon haptically endowed globe/joystick at Tokyo Game Show last year. It was neat, but not going to replace my mouse—in part because game support was lacking. Now it'll be supported in real, live games from EA: Madden NFL 08, Tiger Woods PGA Tour 08, Need For Speed ProStreet, Battlefield…
Novint's Falcon 3D Haptic Joystick has been around for awhile now, but it has just received an upgrade in the form of a black version and an optional pistol grip accessory for FPS gaming. At $19.99, the grip is a little more expensive than the $4 price tag they hinted at last May, but if you are already paying $199…
So this is why the Novint Falcon force feedback controller was delayed so long? So they could work out the Fleshlight integration? All is understood and forgiven, Novint. [Slashdong via Fleshbot]
You knew the Novint Falcon 3D haptic joystick was finally shipping, but now we've got confirmation from customer number one, Tristan George. Tristan says he's played the Half Life 2 mod with the Falcon and "it's amazing, very fun to play."
We've been following Novint's Falcon controller since its birth, and now the folks at Novint tell us their pasty white baby is ready to make its debut. The Falcon will be out June 18th for $239. In a nutshell, the 3D controller lets you play games via a handshake-like grip that offers a more realistic experience via…
We saw a lot of controllers at CES, but Novint's Falcon stood out from the pack. It's a force feedback 3D controller designed for PC games. Users hold the grip handshake style and can then move it up/down, left/right, or backwards/forwards.
We had a talk with Bill Anderson of Novint Technologies, maker of the upcoming force feedback Falcon controller/interface. It's come a long way from a year ago, and it's grown a ball.