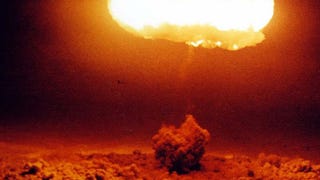 After its Cuban Missile Crisis experience, Kremlin leaders wanted to ensure the USSR would never again be outgunned: one might call it 'Cuban Missile Syndrome.' The result were new missile systems, including schemes to cache nuclear warheads in the deep ocean and outer space. But before the strange logic of nuclear…
Not to scare you or anything, but Air Force officers have left the blast doors to nuclear-tipped missiles open at least twice in the past year. These are the guys who help guard the launch codes who are also tasked with watching over the arsenal. Leaving the missiles available and unattended is a very, very big no-no.
This Guardian report says that North Korea would hit the United States with a "fire shower" of nukes if we attack first. But how far can NK deliver the 5-7 nukes that they're currently suspected of having?
Russians prepare to parade nuclear missiles through Red Square as part of the annual Victory Day celebrations. The procession of Intercontinental Ballistic Missiles, a scary Cold War tradition, ended after the Soviet Union fell, but now Russia is reviving it. Call it apocalyptic retro-futurist nostalgia. Or maybe just…