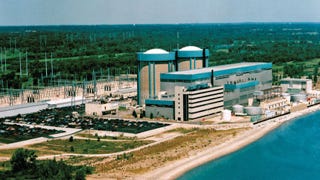 Nicholas Jackson over at The Atlantic has a great piece about the tear down of the Zion nuclear power plant in Illinois that was permanently deactivated in 1998 after both of it's reactors were accidentally/coincidentally shut down. But even when done properly, complete removal isn't so simple.
Following the Fukushima disaster, Germany's decided that its 17 nuclear power plants will either stay closed, or be shut down in the next 11 years, despite relying on nuclear power for almost 23 per cent of its energy.
After Saturday's blast at Fukushima's No.1 reactor and Monday's blast at the No.3 reactor, we were hoping that'd be the end to the nuclear plant nightmares. Unfortunately a third blast occurred in the small hours of today, at the second reactor.