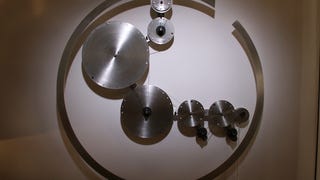 Time rendered in machined metal: The largest gear in "Time in Six Parts" takes 100 years to complete one revolution—when it'll crash to the ground, waking up the giants that've conquered the earth.
At NYU's ITP, I heard the shrill and desperate scream of a child. It turned out to be a kid playing Nobu Nakaguchi's multiplayer interactive telephony called Tuuug of War.
Tom Gerdhardt's computer is disgusting. I found it by following the squishing noises at NYU's ITP spring show. The entire UI and display is basically a giant pile of wet dirt. That's right. Mud.