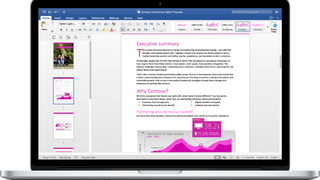 Microsoft Office 2016 for Mac is now available for people in 139 countries, as long as you have an Office 365 subscription or you're a student. Standalone versions will go up for sale in September.
Microsoft Outlook has the distinction of being one of the world's most widely-used email and calendaring systems — and the one that arouses the most profound indifference in its users. So we found the only person in our office who is non-ironically excited about the updates to Outlook that Microsoft announced this…
In mid-July, Microsoft announced that'd it be rolling at a 1 TB storage increase for all its Office 365 Home, Personal, and University subscribers. But the team decided continue its push for cloud supremacy by upping its storage capacity into infinity. Office 365 users now have access to unlimited storage via OneDrive…
The Washington Post and Twitter users are reporting a massive outage of Microsoft Outlook, Office 365, and other services. Are you experiencing problems? Share them here! [WP]
If you just downloaded the new Microsoft Office apps for iPad, you probably noticed that they require an Office 365 subscription to actually create or edit any documents. Instead of signing up for that $100 in-app purchase though, save yourself a bunch of money by buying a subscription on Amazon.