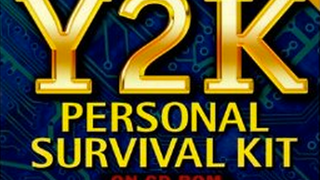 We live in a world obsessed with the threat of terrorism. But fifteen years ago, the media was in constant hysterics over Y2K, or "the Millennium bug." A real coding error that required many a fix, Y2K also provoked outsize paranoia and survivalist tactics that anticipated the end of the world. What were you up to?
Man it feels good to sit down at a desk where everything is in order—or so I've heard. Mine is always a disaster, what with the cords and cables and scattered reminder notes I've scrawled on bits of paper that will undoubtedly get lost in the shuffle. But this lovely specimen from Artifox looks like it would seriously…
The Matrix's Neo and Office Space's Peter Gibbons have a lot in common: They both work in depressing offices. They've both engaged in a little computerized crime. But while Neo had to deal with murderous AIs, Peter contended with Bill Lumbergh and Milton's constant ramblings about his stapler. And as this mashup…
It must be hard work, selling boring office space. Strip lighting, gleaming floors, glass partitions...oh god, I've fallen asleep on my keyboard. But wait! A property developer brought in the big guns for a London office. Or technically, the big highlighter, scissors, masking tape and measuring tape...
Technology was meant to empower us—to clothe us, feed us and enable us to be more than chimps slinging poo from the trees. But it's been misused. Offices are filled to the brim with technology where it plays a role of oppressor. Fluorescent lights, computer monitors, fax machines, copiers, cellphones—these things are…
Destruction therapy has been around for a while now, but is only just starting to hit its stride. On June 21st, a large group of variously frustrated individuals converged on Castejon, Spain to launch the town fiestas with the coordinated destruction of an entire field of appliances and cars. Mainstream medicine has…
In a move reminiscent of schemes seen in Office Space and Superman III, a hacker has exploited a loophole to weasel himself over $50,000 from services such as Google Checkout and Paypal by taking pennies at a time. Unfortunately, he was caught, and is in all likelihood heading to pound-me-in-the-ass prison.