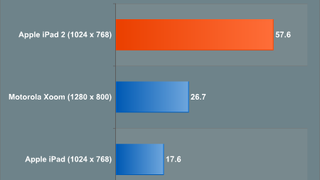 Anandtech put the iPad 2 under a GLBenchmark 2.0 test, a great benchmark for seeing the power of the GPU (where Apple is claiming 9x the performance of the original iPad), and came away with some staggering results. The iPad 2, or I guess more specifically, the A5 chip is going to be an absolute beast for 3D gaming.…
Google's ANGLE project, launched today, will allow their Chrome OS to be able to access graphics hardware using the OpenGL ES 2.0 API. What this means to you: 3D graphics in your browser!
Apple's not always the quickest on adopting new standards (or even old standards). Luckily, their OS X 10.6.3 beta has revealed at least partial support for OpenGL 3.0. [Hardmac via AppleInsider]
With some elbow grease, we've been able to play Doom on our WebOS devices for a while, but now we can do so without any messy terminal commands. Oh, and there's a playable version of Quake, too.
The analysis was correct: the iPhone 3GS graphical abilities are significantly better than the iPhone 3G. Here's how much better, according to OpenGL benchmarks:
We've seen all-digital concept dashboards before, but none seem as impressive 3D (or close to reality) as Futuremark's. It scraps everything behind and to the right of the wheel in favor of a smooth, uninterrupted display onto which an OpenGL powered 3D engine renders everything you might need-instrumentation,…