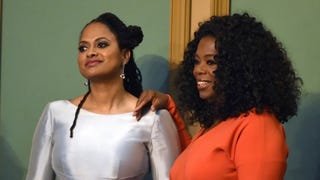 Oprah Winfrey is the first big name to join Ava DuVernay's Disney film based on Madeleine L'Engle's A Wrinkle in Time, which is being adapted by Frozen's Jennifer Lee. This isn't a huge surprise, really—Winfrey was in Selma, DuVernay's highly-acclaimed previous feature, so it makes sense they'd team up again.
Whitney Houston, the diva of divas, passed away yesterday at the too young age of 48. It's a depressing end to her story of galaxy bending talent, sun magnifying limelight and cursed frailty. Anyone who has ever heard Whitney in her prime will always remember the singular power of her voice. I mean, we all have our…
Oprah's show is over—sob. But the league of spelling-challenged fans who email Opera (a niche browser, not a TV host) will probably continue. Opera's rounded up their favorites. YOU GET A MISTAKEN EMAIL! YOU GET A MISTAKEN EMAIL!
That Oprah, always using product tie-ins in new and different ways, this time jiving with the commander of the USS Louisville "The Slugger" submarine—which is 60 feet underwater off the coast of Hawaii—via Skype.