With the exception of whatever weird shit humans are doing, lactation continues to be the source of food for all baby mammals on this nipple-sucking (or skin-licking) planet. When it comes down to how long mammals nurse for, though, orangutans hold the record: Six to eight years.

A conservation group has rescued an incredibly rare albino orangutan from villagers on the Indonesian part of Borneo island, who were keeping the blue-eyed, white-haired primate in a cage. Sick, dehydrated, and exhibiting signs of a bloody nose, it could take a month before the ape can be released back to the wild.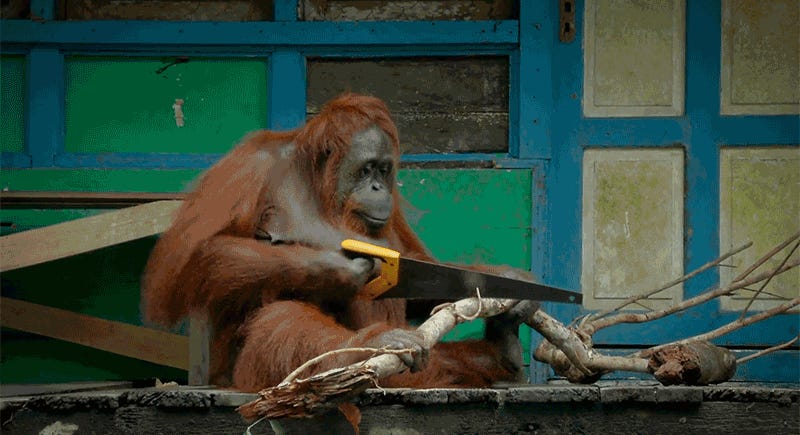 In the latest episode of BBC's Spy in the Wild, a robot ape equipped with a spycam happens upon a wild orangutan that recently found a saw. She uses it with a stunning level of mastery, given the fact that she's an orangutan. But wait, there's more.
Anthropologists in Borneo observed a rare instance of a female and a male orangutan teaming up—to kill another female orangutan. This is the first observed time a female-female conflict in orangutans has turned lethal, and the way the it went down changes what we thought we knew about orangutan behavior.
What happens when you want to give an animal one proper-sized enclosure, but you only have two half-sized enclosures? You need a sidewalk designed for the world's most arboreal ape.

The Kansas City Zoo didn't have the best track record when it came to penning-in its primates—two gorillas got out in 2012 and two chimpanzees ran away in 2014 (I assume they all were brought back?). So when building a new orangutan habitat, the zoo brought in some experts to test the sheer rock walls for…