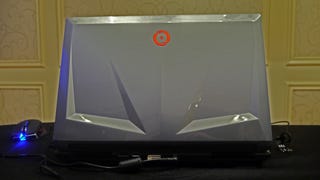 Origin's been one of the craziest overclocking outfits around for a while now, but its laptops haven't been really, let's say, aesthetically pleasing. Its latest rigs got the Ricky Lake makeover treatment, though, but not at the cost of raw asskicking power: they still clock in at a ridiculous 4.5GHz.
On the hunt for a slick and streamlined monster machine of a laptop? Consider Origin's EON17-S gaming notebook. If its 17.3-inch 1920 x 1080 display, 2GB Nvidia GTX 485M GPU, and 32GB dual-channel RAM doesn't grab you, maybe its 2nd generation Sandy Bridge Intel Core i5/i7 processors will. And if even that doesn't do…
ZDNet's come up with a software-based app to overclock processors on the Intel 5000 and 5400 chipsets, which (as of right now) is the Mac Pro and Xserve. Apparently ZDNet Clock is so good, the cheapest 2.8GHz Mac Pro outperforms the 3.2MHz Mac Pro, saving you $1600. You'll have to fiddle with the slider to get it…
Today Asus rolled out the world's first EN8800GT graphics card with 1GB of Qimonda memory. The card is designed to provide optimum DirectX 10 gaming and multimedia playback performance even at the highest resolutions and quality settings. The unit also utilizes an integrated SmartDoctor feature, allowing users to…
Here's a guide to underclocking and overclocking your DS Lite. With this, you can set the speed anywhere from 0.66x normal to 1.8x normal, which both lets you slow down action games like the new Mario and speed up games like Phoenix Wright (which annoyingly has no setting for making the dialogue faster).
Gateway is showing gamers some love by not only ramming the Core 2 Duo inside their new FX530XL, but also overclocking it for you. The FX530XL comes with a 2.93GHz Core 2 Extreme X6800 processor that can be factory overclocked to 4.2GHz. The system will also support Intel's quad CPUs when they start making their…
Who needs an actual dedicated Skype phone when you can mod your T-Mobile SDA to run Skype? We know, the standard SDA isn't fast enough to run Skype and causes a 10 second delay whenever you make a call. That's why you're going to increase the clock rate!