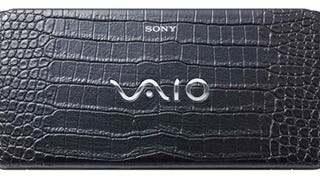 As if whacking GPS, 3G, an accelerometer and optical touchpads onto the new Vaio P wasn't enough, Sony's only gone and painted it with crocodile skin now.
I wanted something I could actually play as if I was punching the person I was playing. This led me to modifying my Slam Man Boxing Dummy to add arcade buttons I could punch.
Why get a super-thin, ultra-cool, beautiful Sony Vaio P when you can get a super-fatso, ultra-blah, furrible Vaino? After all, the Vaino has a bigger 10.2-inch screen and a faster Atom chip, right?
While we knew much of Sony's new netbook's specs already, the price was still a mystery. But new leaks put the Vaio Pocket awfully close to the $1000 mark, which makes it a pricey toy indeed.
This keyboard teaser shot for the Vaio Pocket, Sony's upcoming mystery netbook, shows two things. It has a full size keyboard (like the Vaio TZ) and a track stick for mousing.
It should be common sense to back up whenever you are sending your laptop off to be fixed, even for something small. According to Consumerist, one unlucky reader learned the hard way.