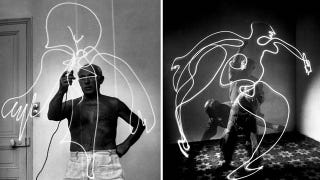 Back in 1949, LIFE magazine's Gijon Mili paid Pablo Picasso a visit at his home in the South of France. Mili, who was a technical prodigy and lighting innovator, showed Picasso some of his photos of ice skaters with tiny lights attached to their skates and jumping in the dark. The preeminent artist was so taken by…
To advertise Brazil's Museu de Arte de São Paulo Art School, the advertising firm of DDB Brazil pinned the famous painters down like classroom dissection frogs. Dalí's innards aren't all that different from his dinner parties.
Superheroes are often depicted with exaggerated features, but the artists known as WonderBros take it a step further. Their paintings grossly distort the facial features of familiar superheroes and villains, inspired by the facial distortions found in Pablo Picasso's art.