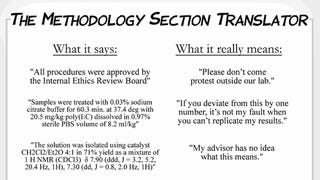 Grad students in every field develop a linguistic armor against uncomfortable scrutiny. Fortunately, where lab-bound research monkeys are concerned, PhD Comics' Jorge Cham is here to translate, explaining when grad students left work to grab a couple beers and when they just don't want you protesting their lab.
You'd think the UK government would be able to at least afford A4 paper for its printers, considering the amount we pay in taxes. But according to The Telegraph, the HMRC forgot to order enough paper to print tax reminders.
Science fiction giant Theodore Sturgeon's papers are being donated to the University of Kansas, after having been privately held in two separate parts until now. This treasure trove of information will prove a boon to researchers studying the process of the award-winning novelist and Star Trek writer (who coined the…
Scientists at Max-Planck-Institute for Physics of Complex Systems recently published a paper describing a two-part method to improve password security.
The New York Times announced on Wednesday that they were putting in place a paywall from this month—meaning "a visitor to NYTimes.com will be allowed to view a certain number of articles free each month; to read more, the reader must pay a flat fee for unlimited access. Subscribers to the print newspaper, even those…
Apple will give the ailing newspaper biz welcome news with an iPad subscription option, the San Jose Mercury News reports. The deal will likely see Apple taking a slice of both subscription and advertising revenues, instead of a flat fee.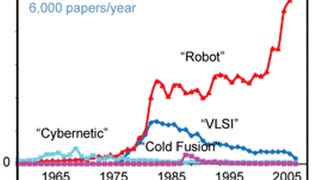 When did robots become more popular than cold fusion? Will nano out pace micro as academia's prefix of choice? PHD Comics charts out the changing popularity of various buzzwords in academic papers over the years.